Operation Cat Race, the military exercise aimed at curbing conflicts and other criminal activities in the north central is set to take off today in Benue state.
Ahead of the formal inauguration of the operation, the Chief of Army Staff, Lt. General Tukur Buratai, has visited Governor Samuel Ortom at the Government House in Makurdi the state capital.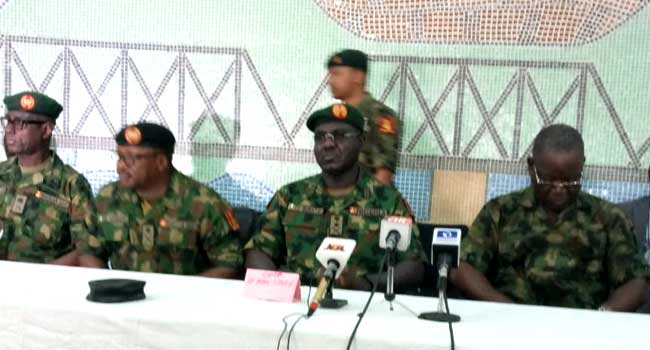 According to General Buratai, the exercise is aimed to familiarise the Army with the terrain and the peculiar security challenges of the area.
It is expected that this would bring under control, to a large extent, the issues of farmers and herdsmen crisis and other ancillary security challenges in that zone.
The Army had said on Wednesday last week announced that the operation would run from February 15 to March 31 in Benue, Taraba, Kogi, Nasarawa, Kaduna and Niger states.
Giving a brief on the Security Council meeting chaired by President Muhammadu Buhari, Adesina said issued considered include the farmers-herdsmen crisis in different parts of the country.
According to him, others are cattle rustling, kidnapping, banditry, as well as anything that constitutes security challenge, while the intention is to tackle the issues.
The President's spokesman noted that the recent efforts by his principal have shown that he was not enjoying himself in his air-conditioned home and doing nothing about the killings reported in the country.
He, however, maintained that President Buhari is up and doing in addressing the security challenges which he said were giving him a lot of concern.
Mr Adesina further assured Nigerians that the Federal Government is working hard to reduce the crisis to the barest minimum, if not completely controlled totally.
However, the scene of the launch, which is Gbajimba in Guma Local Government Area, has witnessed a spate of attacks by suspected herdsmen operating along the Benue-Nasarawa border.