The Inspector-General of Police, Ibrahim Idris, has written a report on Tuesday's siege on the National Assembly to Acting President Yemi Osinbajo, Premium Times reported on Thursday.
A copy of the report uploaded by the online newspaper showed that the report, personally signed by the IGP, was dated August 8, 2018, and entitled 'NASS Siege: IGP Writes Osinbajo, Recommends Search Of Daura's House'.
In the report, the IGP accused sacked Director-General of the Department of State Security, Mr Lawal Daura, of abusing his office and working for "some highly placed politicians" and for "selfish interest".
The IGP, who confirmed Mr Daura's arrest in the report, informed the Acting President that he was undergoing further interrogation in Garki, Abuja.
"It is crystal clear that the principal suspect, Lawal Musa Daura, may be acting the script of some highly placed politicians to achieve selfish political goals, hence his unilateral and unlawful decision to invade the National Assembly Complex," the report read in part.
The IGP said Mr Daura claimed he deployed the operatives of the DSS based on intelligence report "that unauthorised persons were planning to smuggle undisclosed dangerous weapons and incriminating items into the National Assembly Complex".
He, however, said the fired DSS boss did not share the information with the Acting President, the Police or other sister security agencies.
He also said the deployed DSS operatives who were masked "acted like mercenaries, hired to carry out executions".
The report also faulted the claim that the deployment was based on "intelligence report" saying, "The claim of purported intelligence report by the suspect cannot be substantiated as the personnel deployed were not EOD (Explosives Ordinance Department) experts or specialist in this regard".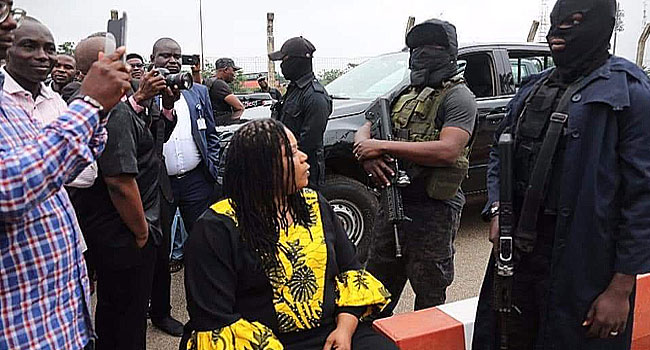 Based on the findings, the IGP recommended that DSS operatives that "invaded and barricaded" the National Assembly complex should be released to the police investigating team for questioning.
He added that "there is need to search the houses and premises of all identified suspects" and that "all communication gadgets such as computers, mobile phones and electronic devices of the suspects will be thoroughly analysed".